We are the startup people of Columbus.
We are the tech craftspeople of Columbus.
We dream, build, and work to build a better Columbus.
TechLife Columbus keeps up with all of the Columbus startup and tech news. If something great happens locally, you'll find out about it here.
Have some news to share? Send the press release info to techlifecolumbus@gmail.com
Be real with me, An expression meant to signify the assumption of fakeness. Fakeness, a sentiment that
can be carried over to modern social media. With the existence of tools like filters, photoshop,
and perfect angles, the standard "post worthy" pictures has gone up substantially. However, a
new social media platform aims to get around this position and promote more candid and
realistic posting expectations, BeReal.

BeReal has blown up with Gen Z over the past few months, with there being almost fifty
million users being added between the months of July and August, from 21.6 MAUs (Monthly
Active Users) to 73.5 MAUs (according to The Business of Apps). As for the premise of BeReal,
all users post once per day, at the same time (as set by a timer). You have two minutes to post
what you're doing; if you're late, your post is labeled as such, promoting candid photos and
for users to be real.

BeReal is attempting to get around a real problem with modern social media. The timing
system limits preparation and choice, setting more realistic expectations for users posting to the
platform. As for just how effective this system will turn out to be, in terms of limiting the
superficial nature of social media, we will just have to wait and see. Let us know your thoughts on the app if you use it or social media in the comments!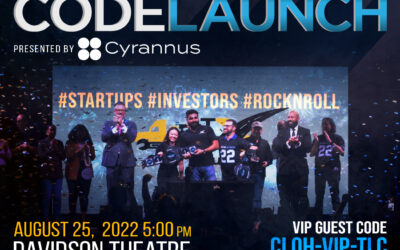 CodeLaunch Ohio 2022, presented by Cyrannus, will be unlike any startup event you've ever attended. This unique traveling startup accelerator will change the trajectory of five Ohio companies by connecting them with early-stage investors and a professional hackathon team to skyrocket their trajectory. Up to 900 guests will enjoy an experience similar to a live-audience Shark Tank episode. CodeLaunch is where founders, developers, and investors collide in a space where deals are made! 
CodeLaunch started in North Texas in 2012 and is now accelerated by Improving. The goal is to travel to cities worldwide, injecting rocket fuel into startup ecosystems. Attendees and sponsors help ensure the competition returns to Ohio regularly, providing tangible effects on our local startups. 
Please use this link to reserve free VIP admission to CodeLaunch Ohio 2022. When free passes run out, use our CAPA.com link to buy tickets. 🎟
Forget the normal, boring startup competition format at the door and join us at the Davidson Theatre at the Riffe Center in Columbus, OH, on August 25th at 5 pm.  
Data privacy: Ohio introduces bill to let consumers see, delete the info companies keep – Columbus Dispatch | Consumers have been largely left in the dark about what information businesses save, how they store that information and whether they sell data to other companies. Enter the Ohio Personal Privacy Act (House Bill 376).
Physna, Founder and CEO: Understanding Business Expansion – CDO Magazine | Paul Powers, Founder and CEO at Physna together with Brian Berning, Partner at RSM US shares advice on capital raising and expanding one's business.
Big Lots Appoints Gurmeet Singh as Chief Technology Officer | Accomplished Technology Transformation Leader at Multiple Companies to Continue Big Lots' Evolution into a Leading Omnichannel Retailer
Aunalytics Accelerates Insights-As-A-Service Offering Through Ohio Expansion | Aunalytics, a leading data platform company delivering Insights-as-a-Service to answer the most important business and IT questions, reported expansion of operations into Ohio. Aunalytics acquired NetGain in February 2021.

Liberty Mutual to buy Columbus-based State Auto Financial – Columbus Dispatch | State Auto Financial said Monday that it is being bought by Boston-based Liberty Mutual in a $1 billion deal being pitched as a way to help Liberty expand its offerings for small commercial insurance and consumers.
Need work? Columbus Tech companies post their job listings here every day. Freelancers – get local gigs here. Students – find internships here. Get great entrepreneurial jobs right here in town.
Please click logos below from jobs from our sponsors

There are a ton of great startup events as well as groups to help you explore new technology in Columbus. You can find out about all of them with us, and attend the same day.